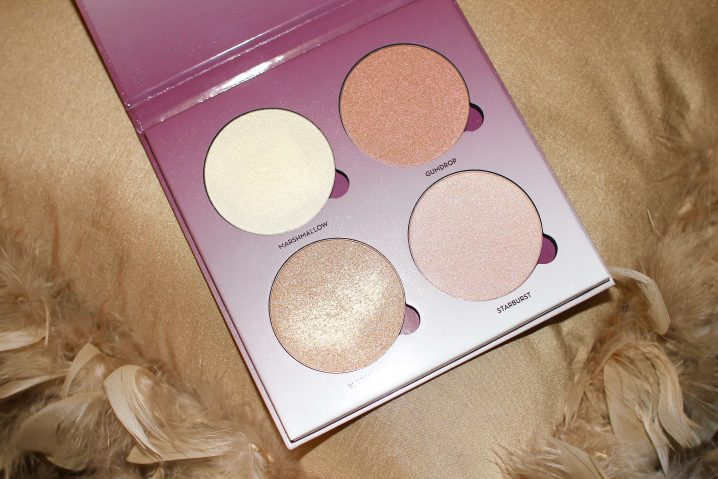 November 15 2017
Anastasia Beverly Hills Holiday Collection
Hey loves!
Now that Christmas is pretty much round the corner, I thought I'd do a couple of posts on some of my fave Holiday products & collections, in the hopes to give you a little inspiration for potential gift ideas & things to pop on your wish list!
I decided that Anastasia Beverly Hills would be the best place to start, as I've actually tested the majority of these products on my lil face, and sure enough, was super blown away with how it all applied & looked!
Prism Palette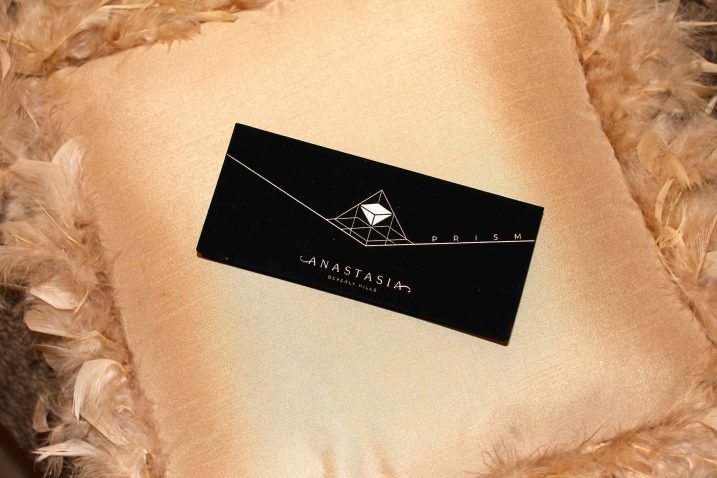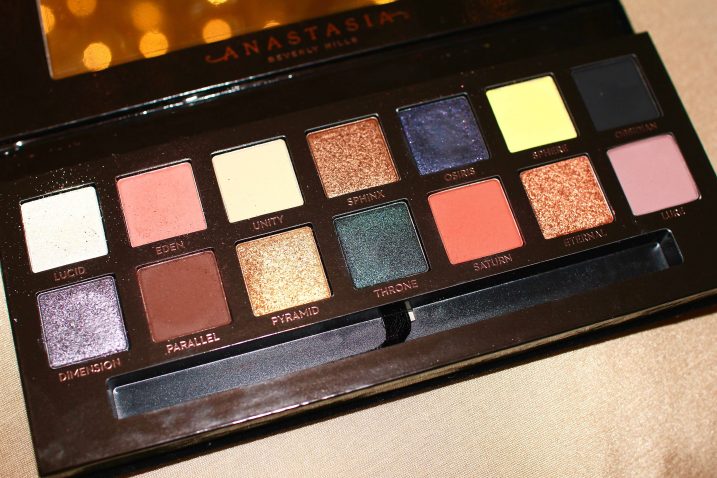 Hands down what I was initially most drawn to, is the Prism Eye Shadow Palette. After all of the drama surrounding Subculture Palette, I think we were all super interested to see how ABH's new palette would perform, and whether or not they'd brought themselves back to Modern Renaissance standards.
However after using the palette myself, I can honestly say I was pleasantly surprised! The colour selection threw me off a little at first glance – I struggled to see how to use the palette to create a decent range of looks. But now, looking at the colours more closely, I'd say there are enough warm mattes to pair with the duo-chromes & metallics to give lots of variety! I also LOVE the fact that they've included a black in the palette, as I definitely think they've been missing a black shadow in a couple of the others.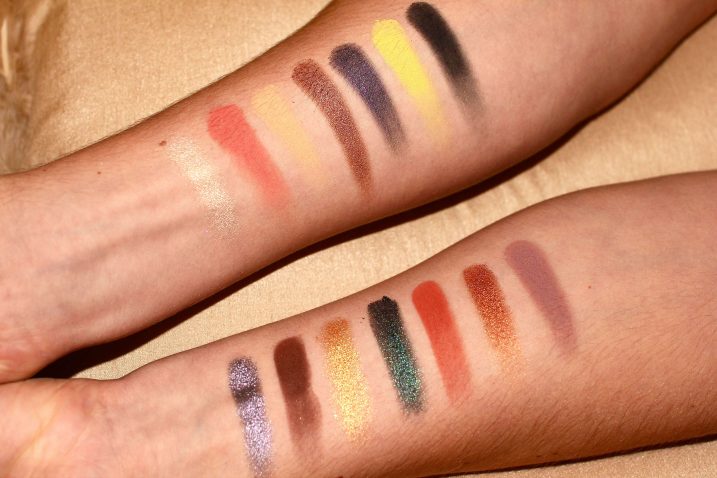 In total, there are 14 shadows. Four duo-chromes, seven ultra-mattes & three metallics.
Duo-Chromes
• Lucid – white gold with pink reflect. I've only used this for inner corner highlight. Applied really nicely! Not too intense either.
• Osiris – midnight violet with red reflect. Probably the most disappointing shade in the palette so far. Looked beautiful in the pan but swatched really poorly, both on the eye and the arm. Tried it with different methods too, but nothing seemed to help much.
• Dimension – silver grey with pink reflect. Loved this shade! Really helped fix Osiris for me & brought a lot of life back into the eyes. Swatched beautifully on the arm too.
• Throne – blackened blue green with multicolour reflect. This shade looks absolutely stunning. Cannot wait to use this! Very Christmas appropriate.
Ultra-Mattes
• Eden – coral pink. Really lovely. Blended well, super pigmented as all ABH mattes are. Made for a great transition colour.
• Unity – nude ochre. I haven't used this shade yet but it doesn't blow me away in the pan. Could maybe be used to set an eye base or as a transition for someone with fair skin?
• Sphere – electric green yellow. This shade is SO much fun! I really wanted to incorporate it into the look but it just wasn't quite right. It's quite random, probably one of the shades that initially threw me off the colour selection.
• Obsidian – deep black. Great black, super pigmented and really makes the palette a lot more diverse!
• Parallel – truffle. Love love LOVEEE this shade. Blends beautifully, definitely an essential for the palette.
• Saturn – terracotta. Again, LOVE! Actually swatches a lot more red than it looks in the pan which I think is fab! Eden, Saturn and Parallel make the perfect base for any look.
• Lure – ashy violet. Like sphere, kinda threw me off the colour selection a little! Not a shade I would gravitate towards, but will be interesting to give it a go!
Metallics
• Sphinx – warm bronze. How stunning is this shade?! All of the metallics swatched really well, a lot better than the duo-chromes. Only needed one finger swatch on the arm. A really universal colour too!
• Pyramid – yellow gold. Again, absolutely gorg.
• Eternal – violet copper. A really interesting colour! I love that it's kind of a mix between a gold and a copper. These metallics make the palette a lot more wearable & every day friendly.
Sugar Glow Kit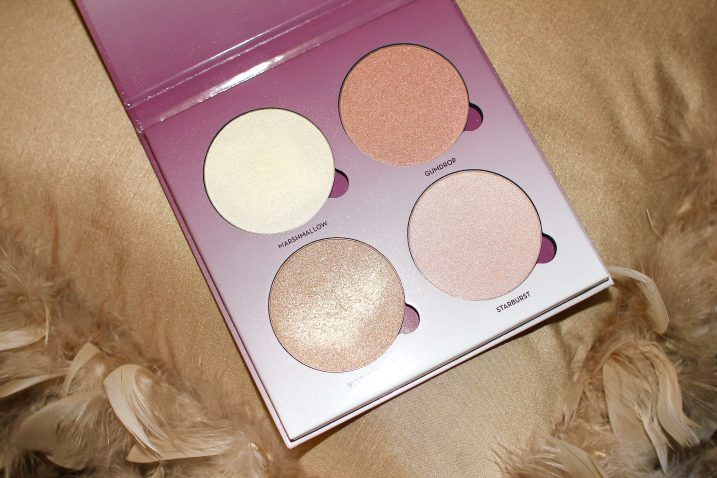 I honestly feel like ABH Glow Kit's can do no wrong. I've never come across a bad one, they always feel super creamy to the touch and look blinding on the skin. Sugar Glow Kit was no different!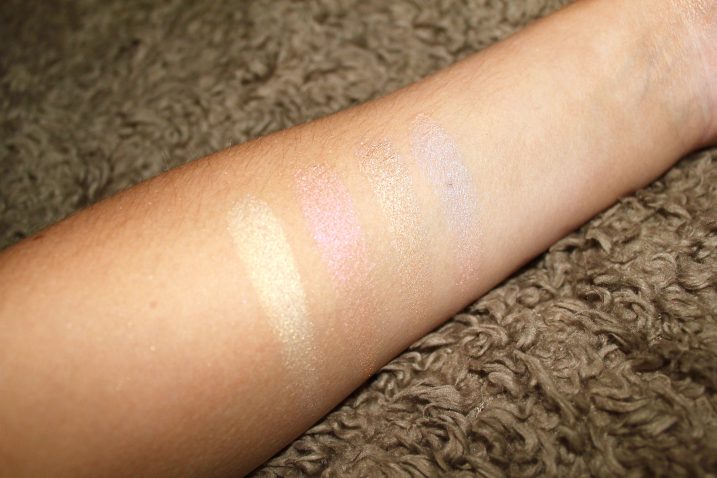 For me personally, the colour selection is pretty much spot on. From left to right, we have Marshmallow, a white gold, Gumdrop, a duo-chrome pink lilac, Butterscotch, a honey gold, and Starburst, an icy pink. If you were to split the palette down the middle, you'd have two that are more yellow/gold based & two more pink based, which I love! I know for a fact that they will look super flattering on light-medium skin tones, I just hope that they can also work on fairer & deeper complexions.
Blush Kits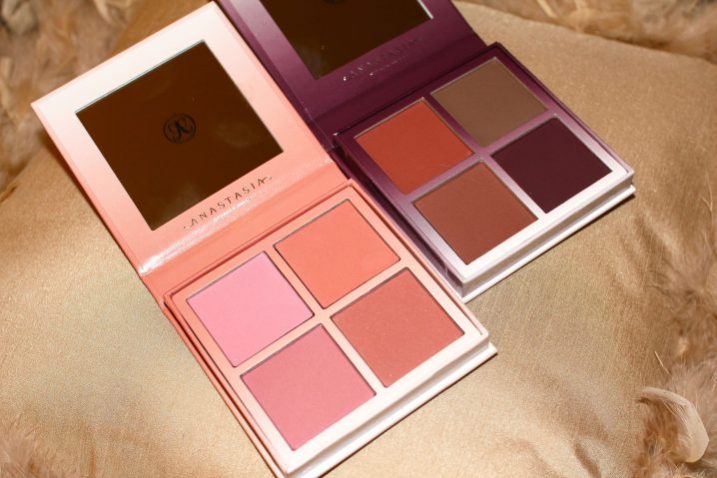 Moving on to a new product from Anastasia, we have the two blush kits, Radiant & Gradient. Given that I'm not a huge fan of blusher, these aren't massively my cup of tea, but again there's no denying that the formula is lovely, super creamy and blendable, and I love the fact that Radiant offers shades that are more suitable for light-medium skin tones, whilst Gradient seems to do the same for deeper skin tones.
Also, sidenote, but just a quick shoutout to Charlie who let me use his arms for these swatches 😂. On his right arm (top) we swatched Gradient. From left to right we have Vegas, a corduroy brown, Chocolate, a warm copper brown, Dusk, a brown taupe, and Blackberry, a deep Berry. Even though these shades aren't suitable for my skin tone as blushes, I have no doubt they'd make fab shades for the eyes! Blackberry reminds me a lot of sketch by Mac, which is one of my favourite purple shadows.
Underneath on Charlie's left arm, we have Radiant. Swatched left to right are Spoiled, a cool pink with a little bit of sparkle, Breeze, a satin rose, Coastline, a coral peach, and Terrace, a crimson peach. Coastline and terrace are definitely more my kind of shades, as I much prefer coral blushes to pink, however I love that the kit offers a good variety!
Liquid Lips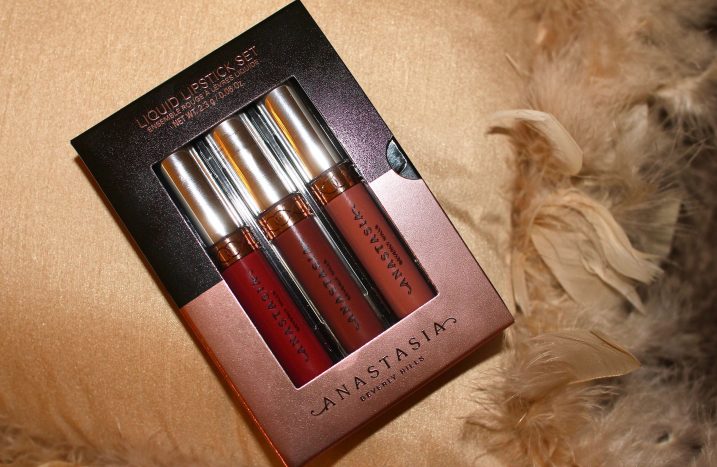 Last but certainly not least, we have the new lip products. The first here is the cutest, dinkiest mini liquid lip set, and then we also have three new full sized liquid lipstick shades.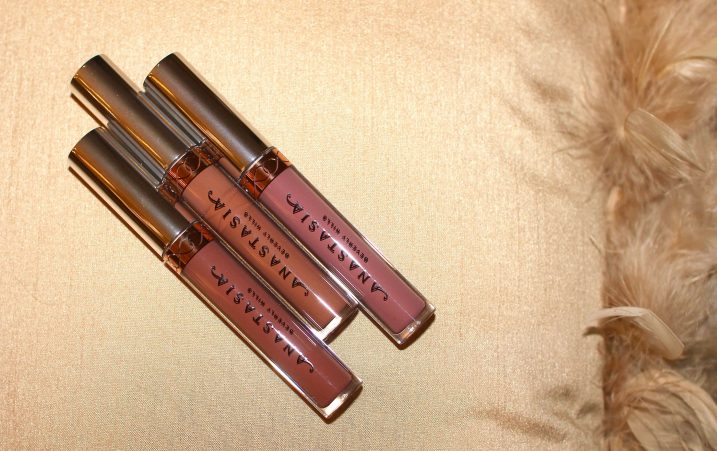 I've always loved the formula for Anastasia lippies; they're super opaque, relatively comfortable on the lips & last a really long time. At times, I do find them slightly drying, but being someone who tends to always finish with a gloss anyway, it doesn't bother me too much.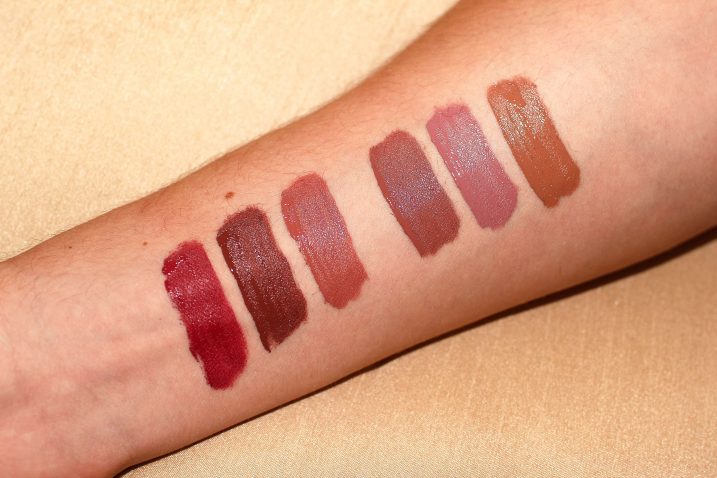 The first three above from left to right are Dazed, Bittersweet and Hudson – the shades included in the mini set. Both Bittersweet & Hudson are new colours to the range for the holiday collection, whilst Dazed can be purchased normally as a full sized product. For me these look like a perfect Christmas trio! You've got your typical reddy-brown colour with dazed, a more muted autumnal swiss chocolate colour with Bittersweet, and a more wearable/everyday kinda nude with Hudson.
On the far end, we have Starfish, a sort of peachy sand colour, Trouble, a mauve rose type of nude & Rocksand, a warmer rosy brown. These can all be purchased individually.
Anyway! That's pretty much it for today's post, hopefully this gave you a closer look at the range and whether or not it's something you'll be asking Santa for at Christmas! All in all, I absolutely love it!